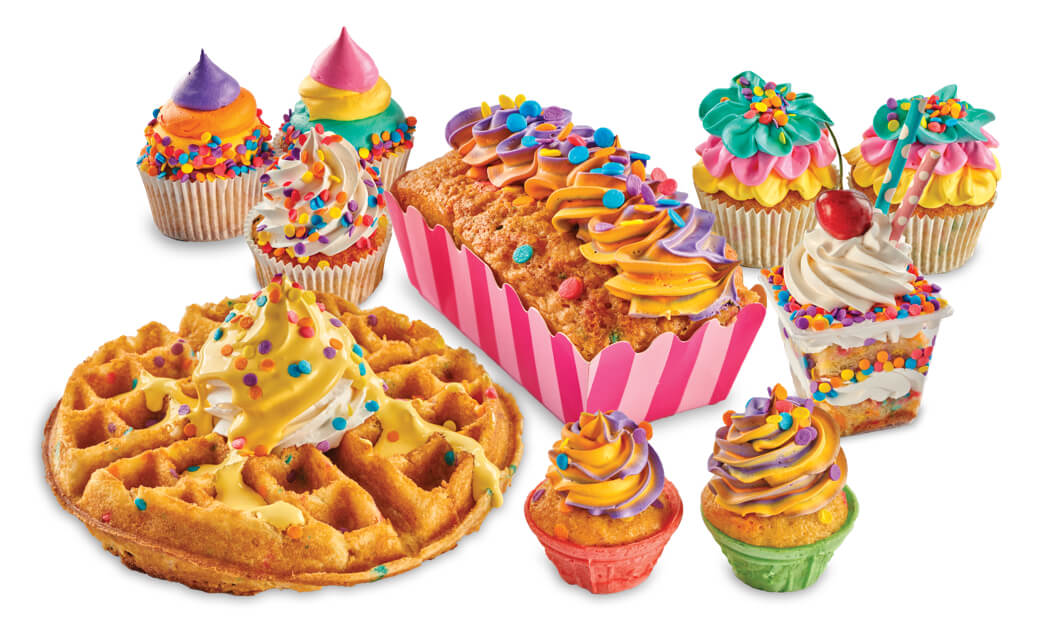 OUR NEW CONFETTI BIRTHDAY PARTY PORTFOLIO
Our on-trend new confetti celebration and Birthday Party line-up is just the answer for shoppers clamouring for that show stopping sweet treat to mark celebratory occasions and bring delicious excitement to everyday desserts! Fun, aspirational and a combination of beloved celebration and birthday party elements – cake and confetti. This new product portfolio includes Rich's® Birthday Party Baked Vanilla Cupcakes and versatile Batter.
LAUNCHING WITH 2 POPULAR VARIANTS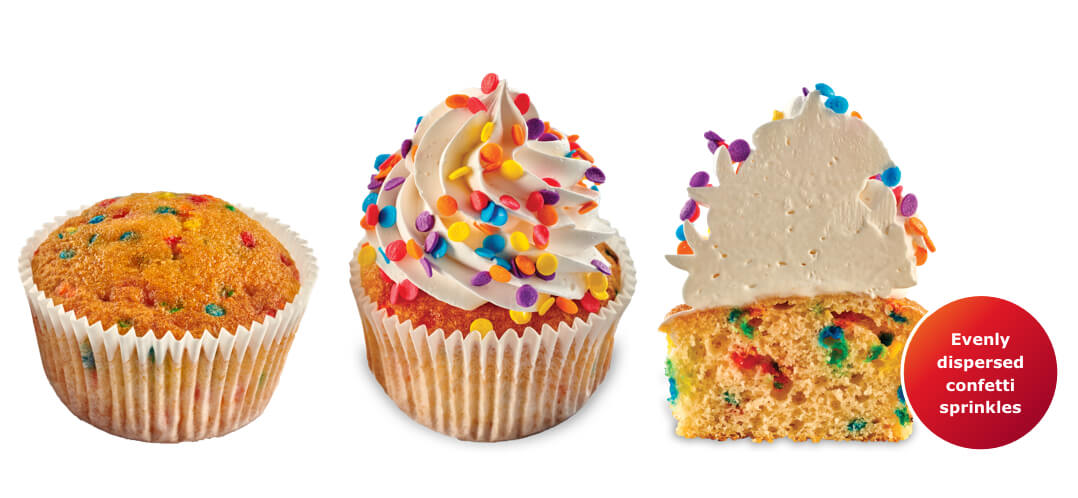 BAKED VANILLA BIRTHDAY PARTY CUPCAKES
Rich's® Baked Vanilla Birthday Party Cupcakes are a colourful new addition to enhance the celebration bakery range. Multi-coloured confetti sprinkles are baked within, delivering the trusted signature performance – firm structure, soft texture and delicious taste!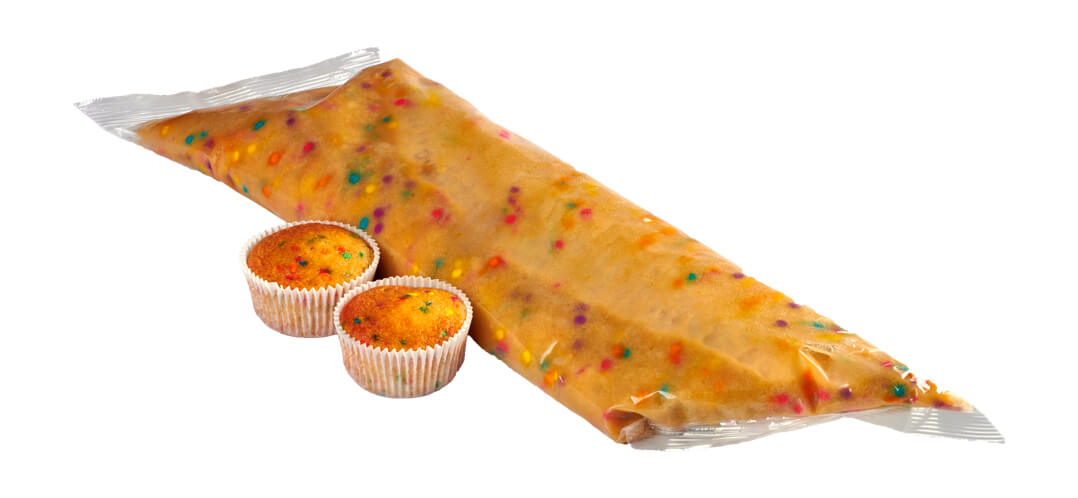 BIRTHDAY PARTY BATTER
Rich's® Birthday Party Batter is perfect for waffles, cake pops, muffins, cupcakes and more to compliment your menu offering or add a burst of celebration into every day.
Features and benefits | CUPCAKES
Uniform and Consistent

Our Birthday Party Cupcakes are baked to perfection, flash frozen to lock in freshness, and are uniform with even confetti inclusion dispersion ensuring consistency.

Texture & Taste

Specifically formulated to ensure a consistent firm structure, soft texture and delicious taste, creating a blast of birthday in every bite.

Customer Loved & Operator Friendly

Putting the creativity in your hands, our cupcakes are ready-to-use, consistently moist, flavourful and easy to decorate. Simply thaw, ice and serve.

Superior Structure

Ensuring excellent quality and perfect aeration, resulting in a great-textured and light cupcakes.
Features and benefits | BATTER
Easy and Efficient

Very easy to prepare – just thaw, pipe and bake.

Quality and Consistency

Top quality ingredients used to give you the best muffin time and time again with high confetti inclusion coverage.

Perfect Portions

Bag size is perfectly portioned to offer the right amount of batter for your needs.

Operator Friendly

High quality bag to avoid splitting or leaking.

Versatile

Can be used for other products such as waffles, cake pops, pancakes and more.
PERFECTLY PAIRED WITH
CREATING THE PERFECT CELEBRATION JUST BECAME EASIER!
HANDLING GUIDE | CUPCAKES
| | |
| --- | --- |
| | Remove required number of cupcakes from freezer. |
| | Place cupcakes on a baking tray and leave to defrost for 30 minutes at room temperature. |
| | Ice and decorate as desired. |
| | |
| --- | --- |
| | Unopened, frozen: 5 Months |
| | |
| --- | --- |
| | Store frozen at -18°C or below. |
| | Before use, remove muffin batters from the freezer. |
| | Defrost at room temperature (± 3-4 hours out of case) or overnight at 3-4°C |
| | Once opened, muffin batter must be used within 24 hours (do not refreeze batter) |
| | |
| --- | --- |
| | Frozen unopened: 6 months |
| | Refrigerated unbaked: 1 day |
| | Baked shelf life: 3 days |
For muffins and cupcakes:
Place muffin or cupcake liners into the pan. Pipe batter into the liner. Leave ± 1cm space between the batter and the top of the liner. Bake muffins at 180°C for ± 22-30 minutes (size dependant). Bake cupcakes at 170°C for ± 18-20 minutes (size dependant). After baking, remove the muffin or cupcake from the pan and allow to cool on a rack to avoid sweating
For waffles:
Spray waffle iron or skillet with aerosol release agent, or grease lightly. Pipe sufficient batter to cover the surface of the waffle iron. Cook waffles for approximately 3 minutes, depending on the depth of the waffle iron.
Pro Tip:
Drench confetti waffles with Tres Riches® Syrup and top with a dollop of On Top® With Cream or Vanilla Bettecreme® Pre-Whip for an extra special celebratory treat.
I AM INTERESTED IN FINDING OUT MORE
I would like a Rich's Sales Associate to contact me