Same Product. New Look. Introducing our new Whip Topping Portfolio Packaging
In our commitment to staying ahead and always being focused on improvement, we bring you our new Whip Topping portfolio packaging range that is relevant, contemporary and more focused on your needs. Why? Because we want to continue enabling your creative inspiration, unleash your imagination, and because your business relies on customer smiles and rising profits. Our new packaging change has been designed with both you, our customer, and product benefits in mind.
Explore our new visual identity:

Look out for these eye-catching visual identity updates: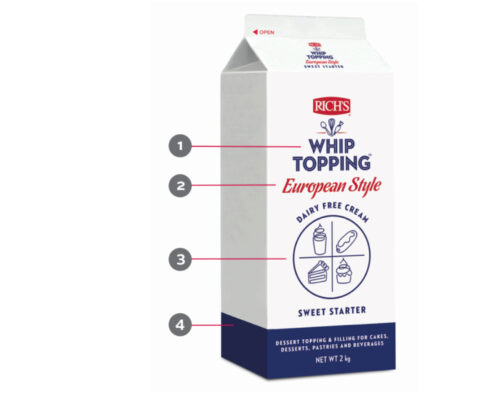 1. RICH'S® WHIP TOPPING® LOGO:
New Whip Topping® logo includes a spoon, whisk and pastry bag graphic that denotes product usage. In addition, the logo is now consistent across the Whip Topping portfolio.
2. PRODUCT VARIANT:
European Style – Description of product flavour of colour.
3. ICON:
For easy reference of product usage and application.
4. COLOUR BLOCK:
A bold colour block at the bottom of the packaging emphasises the flavour, uses and value proposition of the product.

EXPLORE THE FULL WHIP TOPPING® PORTFOLIO

WHIP TOPPING® WITH CREAM
This authentic blend of real dairy cream and non-dairy ingredients is blended to perfection to offer the best of both worlds. Use it as a liquid or whip it up to make all kinds of cakes, desserts, breakfast items and beverages. With the stability of non-dairy and the taste and colour of real cream, it gives you the ability to turn your sweet dreams into a reality.

WHIP TOPPING® FRENCH VANILLA FLAVOUR
This non-dairy topping offers great performance and stability with an authentic creamy vanilla flavour. Use it as a delicious topping and filling for layer cakes, sheet cakes, cupcakes and tortes. Fill donuts and pastry crème horns for tasty treats. Decorate occasional cakes and pies to make them special. And combine with fruit fillings to create delicious icings for layer cakes. The possibilities are endless!