Maximize your bread sales with Rich's® expertise. Our artisan breads are par-baked. In other words, we've put in the time and expertise and given you the convenience.

Your convenience means:

• All our artisan breads are freezer-to-oven, except our authentic Ciabatta loaves and bagels (which needs to thaw in order to bake to its best).
• You can have freshly baked artisanal bread out of your oven within minutes, keeping your shelves fully stocked with fresh bread all day long, keeping your consumers happy.
• A frozen shelf life of 11 months.
Entrusting the last part of the bake to you, you get to create the golden and crispy crust, moist interior, and mouth-watering aroma. This is baking on demand without sacrificing the authentic natural goodness and taste of artisanal bread. This means your bakery can now have fresh artisanal breads available, all day, every day.

OUR TOP MERCHANDISING TIPS: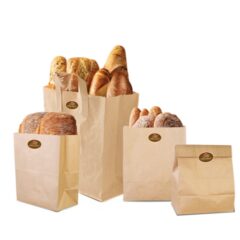 1. Have an assortment of artisanal breads displayed. Offering choice makes your consumers pause, deliberate and engage.
2. Bake in small batches throughout the day. Freshness is key and aroma is your biggest ally.
3. Showcase prepared sandwiches suggesting what fillings customers can combine with their artisanal bread of choice.
4. Use natural packaging that suggest the same earth-laden goodness of the breads themselves such as baskets, brown paper bags, wooden boards and blackboard price stakes.
5. An active bakery infers life, family and creates a warm atmosphere. Situate your bakery where its aromas and visual beauty can be enjoyed and bread sampled easily.
6. Educate your consumers about the speciality that is artisanal breads: highlight the traditional methods used, name the loaf and its key tastes and features.
7. Pack the bread on angled shelves to best display their aesthetic appeal.
8. Offer sampling stations, sampling encourages an on-site experience that speaks to the generosity and honesty of the artisanal bread making process itself. Suggesting condiments and different pairings educates and broadens artisanal bread beyond the normal sandwich.
9. Use aroma to encourage purchases! Baking small batches of loaves throughout the day means that you are constantly using this ally to attract consumers, and never disappoints, as you always have freshly baked bread on hand.
Click here to explore our full Artisan Bread® Portfolio.